HOME
>
MEETING
>
The 8th study meeting(Summary)
Participants
Study group members: Ohira, Sakurai, Sato, Kodama, and Yamamoto
Assistant: Sugimoto, and Hayakawa
Kodama's Business Trip Report
Kodama:
I felt this IPRA conference was a meeting where the victims' position was emphasized. In the process of research, there will be major gaps generated as to whether or not the victims' position is being focused on.
The issue of cooperation was taken up, which is exactly the topic we are going to tackle. Collaboration with NGOs is going to be promoted at the GPPAC (Global Partnership for the Prevention of Armed Conflict), etc. The key issue is how the study of peace, NGOs and the United Nations can cooperate with each other.
At IPRA, there has been much debate on whether we should focus on research or more practical matters. It is important for researchers to play a role as mediators of conflicts, but the big issue is whether there are human resources and know-how available to act as mediators among the researchers. Training for researchers will be required.
Northern European researchers tend to prefer the practical use of their research results. Some of them actually do research in Palestine and Sri Lanka.
Yamamoto:
Generally, researchers get involved in international organizations or national positions, for instance, as advisors at negotiations. The position of a researcher alone cannot be recognized as a negotiating partner. Cooperation from the government is required in order for a researcher to become an advisor to international organizations. However, Japan takes a passive attitude toward this cooperation.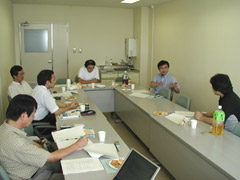 Kodama:
Cooperation with researchers is beneficial for the government. It is also crucial for an individual researcher to establish a direct relationship of trust.
Yamamoto:
It is each individual's network or research result that make the government support researchers.
Sato:
Japan tends to make use of researchers just for authorization. What is the progress status of GPPAC?
Kodama:
A meeting at the United Nations will be held in September, 2005.
Sato:
We can send representatives from this research group to the meeting.
Nakanishi's Business Trip Report
Sato:
It seems that the Afghan refugees in Iran go back and forth in search of jobs for a living. They are like labor immigrants, and it is difficult to regard them as refugees. Therefore, these people go back to Iran even when they are forced to return home.
Yamamoto:
In the case of Iran, the UNHCR cannot freely act within the country. The biggest issue is that people cannot live immediately after going back to Afghanistan since the land was left undeveloped for more than twenty years. This is not an issue of humanitarian relief, but of development assistance. Even if these people receive a variety of support assistance, they will be able to live on this support only for three months at most, and will eventually become refugees again. This issue has been continuing in cycles over the past ten years.
Since the Afghan people work at very law wages, they are structurally embedded into the Iranian economy as seasonal workers. There are even some brokers who support refugees to return to Iran.
Sato:
If this issue becomes structural, it will be difficult to solve. In addition, the issue of Herat is pointed out.
Yamamoto:
Herat rulers, who receive support from the government of Iran, have problems with the Karzai regime.
Sato:
It has been written that NGOs' actions for Iran are actively taken in Herat, but are they genuine NGOs?
Yamamoto:
Any NGO or international organization needs to bring material from Iran in order to act in Herat. It is effective to use Iranians when negotiating successfully with Iran. As a result, Iranian NGOs are widespread. Their actions are completely business orientated.
Sato:
In essence, I get the impression that humanitarian relief promotes conflicts.
Yamamoto:
It is becoming obvious that the aim of creating a strong-arm central government does not work.
Sato:
If local armed factions have a certain level of de facto governance, federal and moderate unification might be better.
Yamamoto:
At this point, each individual has the sense of belonging at the prefectural level only. The level should have been stabilized for a while, from which the concept of the nation should have come. The Taliban successfully managed the people's sense of belonging partway.
The typical issue is law. The law, which is applied to the overall nation, is not well organized, but common laws dominate the nation as a whole. Additionally, the common laws completely differ from region to region. However, when the United Nations intervenes, it tends to push an extremely artificial law which applies to the entire nation. This will be a major cause of conflicts.
Sato:
According to an article by a certain scholar, autonomy was promoted and a moderate federation was established in Sri Lanka before being colonized by the British. The British entered the country where they treated the minority, the Tamil, preferentially. This causes the current conflict.
Yamamoto:
Rwanda is also a typical case. Tutsi and Hutu were strictly divided, where the roles of rulers and subjects were defined. As a result, the conflict broke out.
Sato's Business Trip Report
Sato:
I went to Sri Lanka in June, visiting eighteen organizations and two refugee camps. Although they reached the cease-fire two years ago, the situation has been currently deadlocked. They fight over what the agenda should be. The background factor is not monolithic in both sides.
The Japanese government held the Tokyo Conference last year. The government tried to link both sides by providing assistance in accordance with the progress status of peace negotiations. However, the LTTE were against the idea and did not participate in this conference. It is suggested that a vindicatory approach will fail. Rather, we should prioritize economic development, making the people realize that it is unwise to have to resort to armed fights.
In particular, the capable human resources of the Tamil have been evacuated, which causes the problem of a talent shortage. In addition, even when they return home, they will become refugees again since there will be no jobs. We need to deal with the issues of human resource development or employment. However, in order to provide reconstruction support in the area where the LTTE dominates, we should pay taxes to the LTTE. LTTE money could be used for purchasing arms, which is a serious dilemma.
I think it is necessary to provide support for their medicine or education through NGOs on a small-scale basis, but a big project will end up being premature.
Yamamoto:
In small countries like Sri Lanka, a conflict will have a huge impact on the economy. Most of the military budget in Sri Lanka has been used with the LTTE in mind. Ironically, if the Sri Lankan military budget for the past sixty years had been used for supporting the Tamil, the demands of the LTTE could have been met to some extent, except for independence. Considering the current situation, it seems pointless to have used the military budget.
Although the U.S. has started to call the LTTE terrorists, the Sri Lankan government has refused to do so. I felt this wise. Once one side calls the other terrorists, they will not be able to negotiate with each other. The government wants to continue negotiations. Still, it is favorable for the U.S. to call the LTTE terrorists as it puts pressure on the LTTE.
Suggestions of Joint Study for Sri Lanka
Sato:
I suggest that we should work together for a case study of Sri Lanka as a joint study. An individual study alone could be inconsistent, so we need to define a concrete subject and apply each research result to the subject. Sri Lanka is appropriate.
I am planning to invite Mr. Nakamura from Ryukoku University, who is the leader of Sri Lankan economic development research, to the meeting after next as a sp. I hope to make a favorable impact on the actual peace negotiation process. The research will be a main part of this effort, but I want to achieve something. Our study group can pull off an achievement, which could be defined as uniting collaboration with practice. I will ask each of you to deal with a specific topic some other day. For example,
I will ask Mr. Sakurai to do research on the Tamil and Sinhalese, etc. from the viewpoint of ethnic conflicts.
Yamamoto:
The search for a solution to the problem of refugees is also interesting. There is the factor of the outflow of human resources.
Kodama:
I have an acquaintance in Britain, who has become well-known worldwide as a researcher on terrorism. He is originally from Sri Lanka and is also used to be a researcher specializing in Sri Lanka. The aspect of terrorism research sounds interesting, too.
Sato:
It is said that the LTTE have promoted suicide bombings.
* Peace Building Lectures
Sato:
For the lectures regarding the international cooperation major, which will start in October, I have decided on a trial basis to begin with lectures on peace building.
In the first phase, there will be a brainstorming session. In the second phase, people from outside our group will be invited to the lectures where we will learn about the issues. In the third phase, we will have students make groups, do research, and make presentations. I would ask for your advice and cooperation depending on the research topics. It is difficult to teach peace building through lectures since the topic includes various factors. I should focus on something specific, but then the outcome will end up being only a partial part of a larger topic.
Other Report Items
Sato:
The symposium will be held in Tokyo on September 30th. The Ministry of Education, Culture, Sports, Science and Technology has previously mentioned that they want to establish a graduate school network for human resource development for peace cooperation. For that purpose, the secretariat will be placed in FASID and the symposium will be held. Mr. Nakanishi, from our study group, will attend this symposium and make a report.
I will explain the overseas studies and educational cooperation later. The booklet volume No.1 is the one that fills in the details of my business trip report to Sri Lanka. I have already sent the manuscripts to Ms. Hida of the local development planning section. The booklet will be ready within this month or the next. I would also like to post the booklet and discussion papers onto the website.
Sugimoto:
In the previous meeting, someone pointed out that the research might be regarded as previously stated once presented as discussion papers.
Sato:
To start with, the discussion papers will serve as a draft in which you will get more input and further promote discussions. The booklets will help advertise research contents and achievements to the outside world, and will be a preparatory work toward a complete book.
Sugimoto:
I would like each of you to make a decision as to whether you wish to disclose your research on the website.
Sharing Research
Sato:
We need to share our research.
I am going to write a general statement about peace building and the case study of Sri Lanka. As an actual result, I wrote the discussion paper No.1 which was distributed today. I followed the course that research on the concept of peace building and human security makes sense only when the research affects working-level proceedings. I also mentioned cooperation with NGOs in the research process. In terms of Sri Lanka, I will make booklets first. When they are ready, I will pass them onto you. I would like you to decide on and fix an issue in accordance with your own study field, and to deepen your research in that direction. Then, we will assemble them all together to make a joint research report. I hope to link this research outcome to next year's symposium.
I hear Mr. Yamamoto's research topic is "Humanitarian Relief and Peace Building" but I haven't heard of the research outcome in detail. How are you going to present your research results at this point?
Yamamoto:
I am going to publish a book, "Wars and Humanitarian Relief" next April from NHK Books, so I am currently writing the manuscripts. My research results will overlap with the book. What is the required outcome for this study meeting?
Sato:
Discussion papers and booklets. Mr. Nakanishi seems to write academic theses. So he is going to hand in his research results after that.
Yamamoto:
I think business trip reports should be like discussion papers which introduce the contents, rather than meandering writing. The theme is the issue of security. I will probably be able to hand in the report in December.
Sato:
Mr. Kodama's topics are "International NGOs and Conflict Prevention" and "The Current Status of East Timor."
Kodama:
Regarding East Timor, I will put together into booklets as my concrete research results within this fiscal year.
Sato:
Mr. Arakaki is getting involved in the program at Harvard University. We will promote the on-going joint study. Mr. Otsubo deals with the issue of the economy. His detailed outcome is under study. How about Mr. Ohira?
Ohira:
I have two topics: (1) "The Subsequence of Japan's Peace Building Support in Bosnia and Herzegovina" and (2) "The Development of the Conflict Analysis Method in UNDP."
The second topic will be a main part. It seems the method of Britain has been adopted. I would like to consider how the method varies in each organization, and to make comparisons with the World Bank. I will conduct interviews with officials. I will then submit a discussion paper.
Sato:
Mr. Sadakata is absent today. Mr. Futamura is going to submit a discussion paper by March. He traveled to Columbia. So I expect his trip report.
Sakurai:
I will consider Koreans as immigrants in North East China from various viewpoints. This issue is not directly related to conflict, but it has something to do with the security in North East Asia.
Kodama:
Are you going to deal with the Taiwan issue?
Sakurai:
I don't specialize in political issues.
Yamamoto:
I hear you are going to release a book. What is the title?
Sakurai:
"The Multiple Studies of North East Asia Koreans"
Yamamoto:
Are you going to write about the common law?
Sakurai:
No. What I want to do the most has not progressed, but I have just gone to collect the materials.
As for the Chinese frontier, I have researched on Xinjiang and Mongolia. I still need to cover Tibet. It may be difficult for me to write the manuscripts, but it could be possible if I have time.
What I have been currently dealing with is a third one, "The Cultural Heritage and its Peaceful Use." I have been working with COE at Ritsumei. I hope to write something about peace building, preservation of cultural heritage and its peaceful use.
Sato:
I would appreciate it if you could hand in one discussion paper within this fiscal year. A draft-level paper is fine. When making an interim report, I would like you to reconsider the paper.
The interim report is not mandatory, but I think we have to make it.
Ohira:
Is there any format for discussion papers?
Sato:
As long as you submit your papers, Mr. Satoshi Yamamoto will organize them.
Currently, we are featuring lectures by Mr. Jan Oberg at Nagoya University. He is from the think-tank in Swedish peace study. He is a visiting lecturer until December 19th and also deals with workshops. He may be able to join this study group.